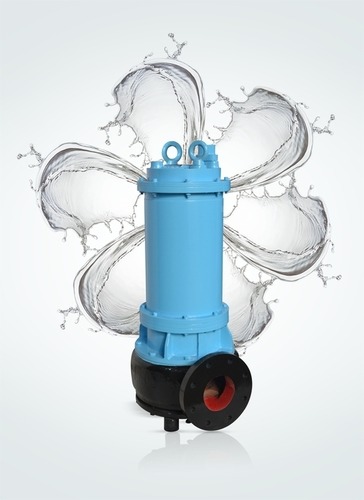 Industrial Submersible Pump
Price And Quantity
Product Specifications
Water

Submersible, Sewage
Product Description
Industrial Submersible Pump

We have earned the reputation of being one of the leading manufacturers, suppliers and exporters of excellent quality Industrial Submersible Pump. Sophisticated technology is used in our well-equipped manufacturing unit for designing of these of these pumps. Our pump is highly demanded in the market for its compact size, low power consumption and longer service life. Moreover, our Industrial Submersible Pump is very efficient in its operation and incur low operational & maintenance costs.
Special Features & Advantages:

The Motor

Motors are squirrel cage type totally enclosed, wet type induction motor suitable for Single Phase, 230V / 3 Phase, 415 volts, 50 c/s a.c. supply, filled with pure drinking water
Dual seals and sand guard are provided for protection and to avoid contamination of outside borewell water
Stator made of Stainless Steel pipe
Stator & Rotors are impregnated with varnish under vacuum and baked-under controlled temperature to avoid rusting in water
Stainless steel sleeves are shrink fitted at bearing locations on rotor shaft and ground to closer tolerance for smooth running
Winding wire is made from water resistance P.V.C. Coated / Poly coated copper wire
Rotor assembly is dynamically balanced for vibration free operation
Rotor bars are of electrolytic grade copper
All the bush bearings are water lubricated
Thrust bearing assembly is fitted with tilted pads resting on S.S. Balls and supported by locating pin to take the higher axial load
The revolving thrust plate is made from S.S. & fitted securely fixed to the S.S. Plate
Rubber diaphragm is provided at the base of the motor to equalise pressure caused by variation in temperature during operation
Lead cables are protected with rubber gromets
The motor is manufactured as epr IS 9283 / 1995
It is vertical multistage centrifugal pump with either radial flow or mixed flow type Stainless Steel impeller
Impellers are dynamically balanced. All the stationary parts are closed grained graded CI with smooth profiles without any determental defects
All the Bearing Bush are self water lubricated type
The Pump shaft Sleeves & Coupling are manufactured from Stainless Steel
Impeller & sleeves are securely fixed on S.S. Shaft with S.S. Key
The bowls are locked by bolting to avail high Concentric accuracy and better reliability
A stream lined non return valve provided to prevent reverse rotation of pump assembly while switched off
S.S. Suction strainer is provided to avoid entry of suspended material in water
To protect cable from being wearing out during installation, cable guards are provided all along the pump body
The pump is manufactured as per IS: 8034 / 2002.
Application: -
Agriculture
Tubewell Irrigation
Openwell Irrigation
Drip Irrigation / Sprinkler Irrigation
River / Canal
Service Water Supply
Fire Fighting Services
Process & Cooling Water Circulation
Booster Application
Raw & Treated WAter SErvices
Mining & Construction Sites
Ornamental Like Fountains.
Borewell
Dia.

Model

Head
Meters

Capacity
Lmp

HP

Supply

80 mm

JT Series

8-100

20-65 Lpm

0.5 to 1.25

Single Phase

100 mm

JA Series

10-200

20-300 Lpm
0.5 to 3.00
1.0 to 7.50

Single Phase
Three Phase

125 mm

JF Series

10-200

40-550 Lpm
3.0 to 10.00

Three Phase

150 mm

JS Series

15-250

80-1300 Lpm
3.0 to 30.00

Three Phase

200 mm

JC Series

10-200

200-2200 Lpm
5.0 to 60.00

Three Phase

250 mm

JO Series

10-150

1000-3500 Lpm
10 to 100.00

Three Phase

Mono Set Pumps: -
Features
The pump and motor being single unit, no alignment, coupling is required
The motor is wet type, water cooled and water lubrcated type, available for 3 phase 415V and single phase 230V A.C. Supply
The motor s wound with PVC coated / Poly coated wire of reputed make
Stators and Rotors are manufactured with high quality silicon stamping to reduce the losses and thereby increasing efficiency of motor.
Stators and Rotors are mpregnated with varnish under vacuum and baked under controlled temperature to get hard finish
All rotating parts like impellers and rotors are dynamically balanced
It can withstand wide variation of supply voltage
Totally submerged in water, no priming required
No pump house required, initial investment is low
High overall efficiency results in lower power bills
Pollution free - no contimination of oil/grease
All C.I. Parts are as per S - 210 FG 200.

Domestc water supply
For lifting water from underground tank to overhead tank in flats, housing complexes high rse buildings.

Agriculture:

For open well application, where water level s not steady

Industries:

For water crculating system, storage tank filling, Gardens, Hosptals, Garage etc.
Single Phase 230 V, 50 HZ
A.C. Supply

0.5 HP to 3.0 HP

35 lpm to 500 lpm

Three Phase 415 V, 50 HZ
A.C. Supply

1.0 HP to 30 HP

200 lpm to 2000 lpm
3 m - 50 m


These pump sets are manufactured as per IS: 14220 / 1994
Due to continuous R & D, the design and features are subject to be changed without prior intimation.
Trade Information
Cheque, Cash in Advance (CID), Cash Advance (CA)

500 Per Month
1 Week

Africa, Middle East, Western Europe, South America, North America, Central America, Australia, Asia